Bridgemate Play
Information for players
Play at your club even if you can't be there
At home ill? Broken car? Babysitting grandchildren? On holiday somewhere hot? Even when you can't make it to your regular bridge game, you can now play at your club. Bridgemate Play enables you to play together with players in the club and other online players, all together in one single bridge game. Play at the same time, see each other's results, make it to the top of the game rankings and be an active member of your club, without physically being there. Don't miss out - join your favourite game wherever you happen to be.
What is needed to play online with Bridgemate Play?

Bridgemate account

If you are using the Bridgemate app, you already have a Bridgemate account. If you don't have the app yet, you can create a Bridgemate account at Bridgemate Play.

Tablet, PC or Mac

Any Windows or Mac laptop or desktop computer, or iPad or Android tablet allows you to play via Bridgemate Play. No downloads required.

Internet connection
A stable high-speed internet connection is required. Your physical location is irrelevant - you can be anywhere.

Relaxed sofa and a
tasty drink

Make yourself comfortable and enjoy playing at your club!
How to play in your club's hybrid game
You've done all the preparation and your club's hybrid game is about to begin. Joining the game from the comfort of your home takes just a few simple steps. Here's how:
Step 1: Log in at Bridgemate Play
Go to the Bridgemate Play website and log in with your Bridgemate account. You can see the hybrid games your club is organising.


Step 2: Join the event to access the game's lobby area
Click on 'Join event' to go to the hybrid game and access the lobby area. Here is where you meet and chat with other players, choose your partner for the game and wait until the game starts.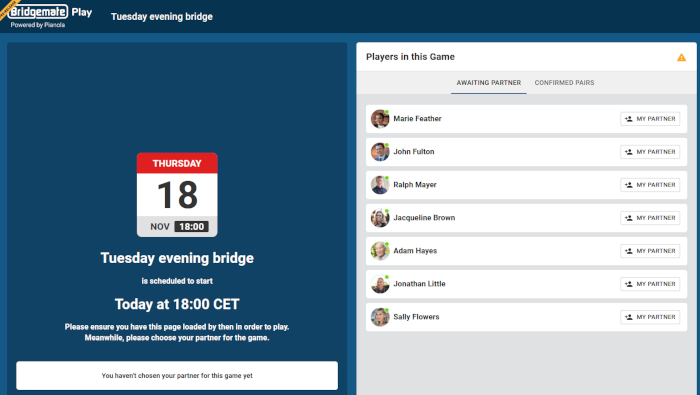 Step 3: Choose your partner and wait for the game to start
Once your partner has arrived, you can click on the 'My partner' button to create the partnership. Your partner may have done that already for you, in which case you don't have to do anything.

You are now all set. Wait for the director to start the game and enjoy playing in your club!
 
Pricing
Your club may or may not charge you for participating online. Please check with your club for details. If the club charges you a participation fee, you may be charged before the game starts.
Need help?
Bridgemate Play is an intuitive platform and you'll quickly become familiar with its features. Should anything be unclear, consult the Bridgemate Play manual for players, which explains all features in detail. If you have any questions that aren't answered in the manual, try one of the following:
Bridgemate support center
Various aspects of Bridgemate Play are explained
in detail in the support center articles.
Visit the support center ›