Bridgemate Play
Information for clubs
Hybrid games for any club
Bridgemate Play hybrid games are a valuable addition to any bridge club. In an ever-changing world, it helps the club to stay connected with their players, offering them more flexibility and opportunities to play.
Six reasons to run Bridgemate Play hybrid games
There are many reasons why your club should organize hybrid games but here are the six most important:
1. Keep your players involved
All your members count, so do not leave behind players who cannot come to the club to participate in the club game. Keep club morale high.
2. Run an integrated game
Run your online and face-to-face game as a single integrated game rather than two separately organised games.
3. Increase club size
Don't let your club games be limited by the size of your physical playing area. By extending the game to Bridgemate Play, the size of your total playing area becomes virtually unlimited.
4. Attract new players
Bridgemate Play is not only limited to your existing members - your club can allow any player to play at your Bridgemate Play club games.
5. More revenue
More people playing at your club, whether they play face to face or online using Bridgemate Play, means more revenue from table money.
6. Supported by your scoring program
As Bridgemate Play hybrid games are fully managed by the Bridgemate scoring system, any scoring program that supports Bridgemate is capable of running Bridgemate Play hybrid games.
Requirements
Before your club starts organising Bridgemate Play hybrid games, check whether the following conditions are met:

Bridgemate club account

Your club must have a Bridgemate club account with Bridgemate app functionality being enabled.

Latest Bridgemate Control Software

For optimal performance you should always use the latest available version of Bridgemate Control Software.

Internet connection
A stable high-speed internet connection is required to ensure a smooth exchange of data with Bridgemate Play.

Four or more online pairs

The online part of the hybrid game needs at least four pairs. Of course, the more pairs, the more attractive the game will be.

Duplicated boards

Use pre-dealt boards in the face-to-face sections, in order to score the game across the field. With hand shuffled boards, the online section is scored separately.
How it works
Setting up a Bridgemate Play hybrid game involves only a few simple steps. The hybrid game consists of one or more face-to-face (offline) sections at the club and one online section played via the Bridgemate Play platform. Online players log in at the Bridgemate Play website and offline players join the club as usual. Once both offline and online players are ready, the game is set up and started from the scoring program and the Bridgemate system ensures your hybrid game runs smoothly.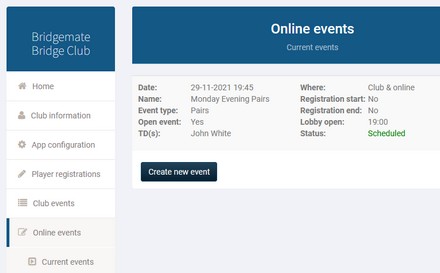 Let players join
the game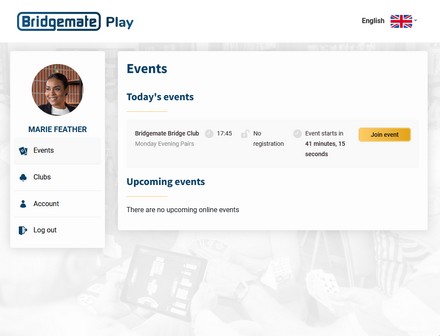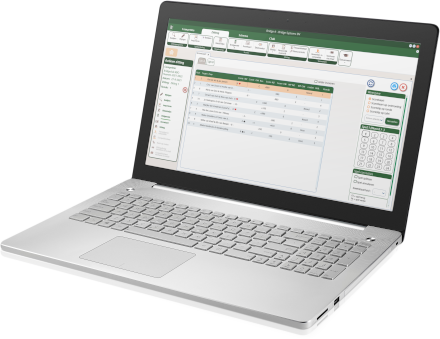 Set up the game in your scoring program
Once all the offline club players and the online players are ready, the complete bridge game is set up in the scoring program. One or more sections for the face-to-face club game are created, plus one section for the online game. Movements are selected for all sections. Hand records are imported and the sections are set to be scored across the field. When ready, the Bridgemate system is started from the scoring program.


Start your hybrid bridge game
Specify the online section in the Bridgemate Control Software and
start playing. The online and offline sections are automatically started. Offline players play in the usual way at the club. Online players play via an intuitive interface that runs entirely in an
internet browser.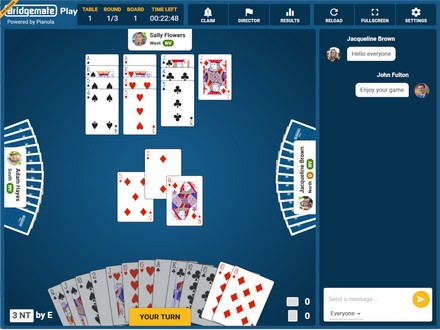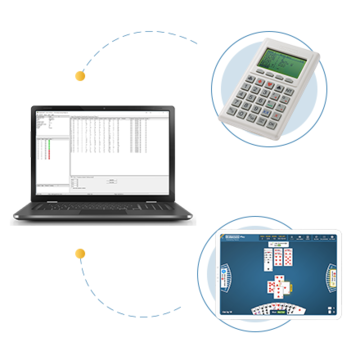 Run and score the hybrid game as any other game
Online scores appear on the Bridgemates in the playing area and the
scores of the club sections are visible to online players as well.
All game results and rankings are instantly available on the Bridgemate app. The scoring program picks up players and
scores from the online and offline sections, and scores the
hybrid game as one event.
True hybrid, semi-hybrid or online only
There are four ways to integrate Bridgemate Play in your club:
1. True hybrid game
                    
Play one or more face-to-face sections at the club and one online section via Bridgemate Play. Both online and
face-to-face sections play the same boards and the game is scored across the field with one overall rankings list.
The face-to-face section uses pre-dealt boards.
2. Semi-hybrid game                
Play one or more face-to-face sections at the club and one online section on Bridgemate Play. Online and
face-to-face sections play different boards and each section is separately scored. Hand-shuffled boards are
possible in the face-to-face section.
3. Online only game
There is no face-to-face section and the club only plays online. Hand records can be generated with any dealing
program and are loaded in the scoring program. Players can be located anywhere.
4. Online only game at the club
The club only plays online but most players choose to gather at the club and play with tablets or laptops (their
own devices or supplied by the club). Players can mimic the usual way of playing and take seats with their
partner and opponents at the same table when all four players are present at the club.
All four methods are started from your scoring program in the usual way. The scoring program starts the Bridgemate system and all scores, player names, and rankings of the whole game end up in your scoring program for further processing. When organising an online-only game, whether at the club or a combination of club and players elsewhere, there is no need to have a Bridgemate server connected.
Pricing
Bridgemate Play is a paid-for service for which you spend Bridgemate credits. For each board result that is played on the Bridgemate Play platform and processed by the Bridgemate Control Software at the club's scoring computer, credits are consumed. See the pricing page for more information and frequently asked questions about pricing.
Need help?
Setting up and scoring a Bridgemate Play hybrid game is easy. For a more detailed explanation of each step, see the Bridgemate Play manual for clubs for more information. Should you still have questions or need support, visit the pages below for more information, or contact us if your question is still unanswered.
Bridgemate support center
Various aspects of Bridgemate Play explained
in detail in the support center articles.
Visit the support center ›